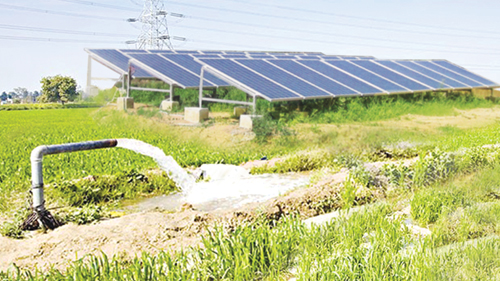 Solar Water Treatment Plant
Iron Removal Filter:: The filter is designed to remove dissolved iron from ground water oxidizes dissolved ferrous iron to insoluble ferric iron. Then our special Media designed to provide excellent to remove dissolved iron that does not require any chemicals for regeneration hence no water Backwash required.
Arsenic removal Plant:: The iron free water is then passed through Arsenic Removal Unit co Selective Media which adsorbs the arsenic present in the water to content in the below 10 ppb then resin designed to selectively remove arsenic from ground water characteristics of in fluent water. It performs with common anions such as Chlorides, sulfate or bicarbonates.
Fluoride Removal Plant:: Fluoride removal is designed to work on hand pumps to remove most ground water fluoride levels to safe drinking water limits. The process of Fluoride removal comprises of reduction of Fluoride levels. In the process, as raw water flows through the unit the fluoride ions are adsorbed on the resin matrix of the Fluoride removal media to bring down the Fluoride to safe levels. On usage the resin will get exhausted based on the Fluoride levels and the water consumption. On exhaustion the unit can be regenerated by using PAC.
Some Of Our Past Projects: We Surya International have extensive experience in Solar Water Treatment plant installation.
Below are some of our projects.
• Water Purification Plant, Govt. of ( PHE) water Assam
• Arsenic Removal Plant for Govt. Of Jharkhand Drinking Water & Sanitation Dept.
• Water Treatment Plant,( Fluoride) affected Govt. of Bihar (Phase-I)
• Water Treatment Plant,( Fluoride) affected Govt. of Bihar (Phase-II)
Solar Water Pump
Solar Water Pump: The crisis in the irrigation sector is particularly hurtful to the farmers in rural India, where nearly two thirds of India's people still depend on farming. According to a survey in 2011, nearly one third of the country's farmers do not have access to proper irrigation. Most of them depend on canal irrigation, which is total failure in many districts of different states. Surya International has developed the idea of integrating solar power to dip or lift irrigation systems, which has been a huge help for farmers, who don't have access to canal irrigation. We are providing farmers with a solar water irrigation pump, tank and drip irrigation, together with agronomy services and advice. We are MNRE empanelled supplier for solar powered water Pumps from 0.5 HP to 5 HP capacity for Maharashtra,Haryana, Himachal Pradesh, Andhra Pradesh, Uttar Pradesh, Bihar, Jharkhand and Odisha . The overall goal of Surya international is to take stock and recognize key challenges and put efforts for the development of solar water irrigation system in rural and suburban areas.
Harvest the wind, water & sun for your energy needs